The following image shows an aerial view of Quayside along with the City council's proposed touting zones (independent punt operators in yellow and Scudamores in blue) and the directions that trade comes from in white.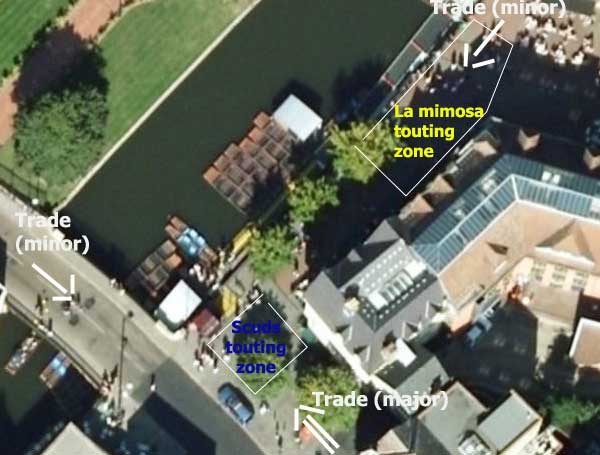 Whilst it is clear that the proposed zone for the La Mimosa station is far larger than that for Scudamores it is also about 25m away from the majority of the footfall that comes down Bridge Street towards Quayside, or over Magdalene Bridge. On Easter Monday just passed (24th March 2008), one of the few days of the Easter weekend where the rain didn't stop play, approximately 5% of the total business came from the direction that would lead it into the La Mimosa tout zone as opposed to directly to Scudamores.
Either the City council have a total lack of understanding of the dynamic of Quayside, they are colluding with Scudamores or both. A simple remedy would be to allow touts from Scudamores and La Mimosa to operate anywhere on Quayside, providing parity. Without this the La Mimosa station is not a viable proposition.